ADHESIVE IDENTITIES: Stickers and Political Expression
Hidden behind their laptop screens, students seemingly create a barrier separating them from the outside world. Yet, in an era where political activism has expanded to encompass social media platforms, the very technological devices used by students have become in and of themselves vehicles of political expression. Political stickers, once seen adorning lampposts, stop signs, and car bumpers, have found a new home on the covers of student laptops. Indeed, laptop stickers have become on the most visible displays of political beliefs on campus. Students blend campaign stickers with that of their favorite bands, restaurants, and activities to create tangible representations of their identities. Accordingly, we explored campus and the nearby Providence community in search of exemplars of this mode of expression. In our interviews with students, we were guided by four basic questions: 1) "How do these stickers synthesize to express your political identity?", 2) "Where did you get your stickers?", 3) "Is the layout of your laptop the result of deliberate planning or was it a natural development?",  and 4) "Do you think it is important to express your political views on your laptop?". Overall, our discussions revealed a deep commitment to personal expression as well as political activism. From stop signs to laptops, our community is covered with these adhesive identities.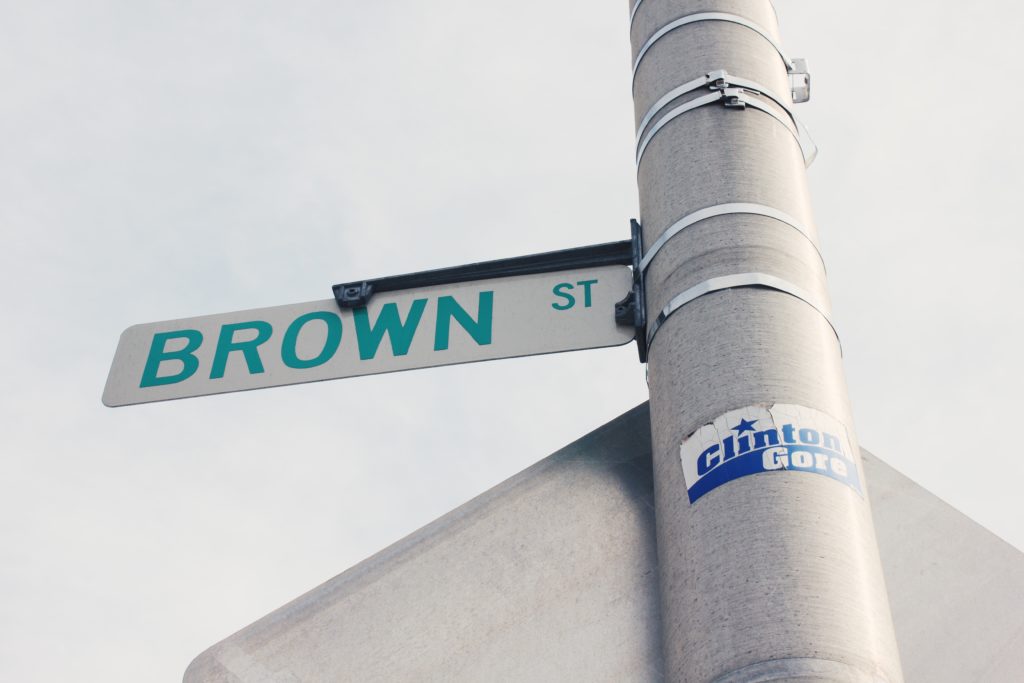 Political stickers carry with them a special kind of longevity. Once placed in a prominent place in the heat of an election, they linger on long past the ballots are cast. Cities are stamped with the memory of past campaigns, while the stickers are constantly projecting the attitudes and views of the time from which they were placed.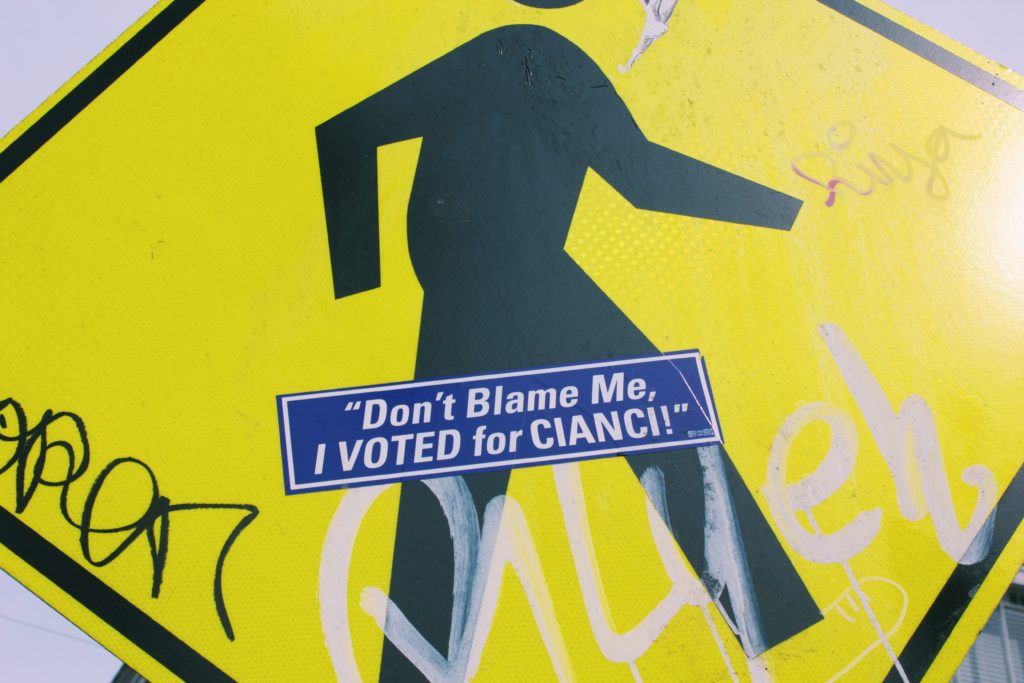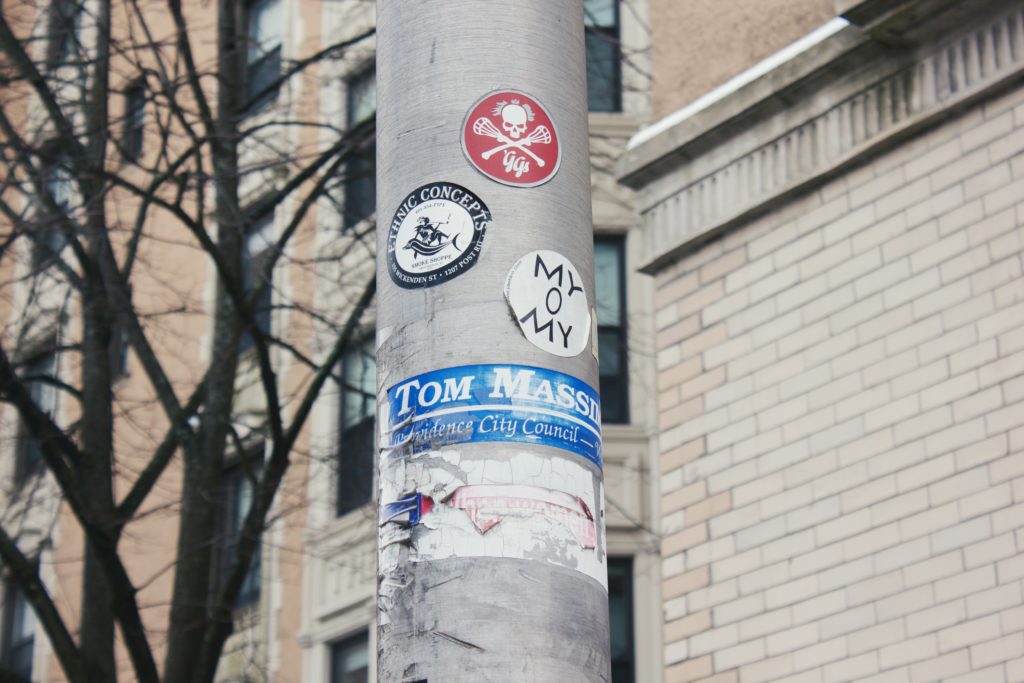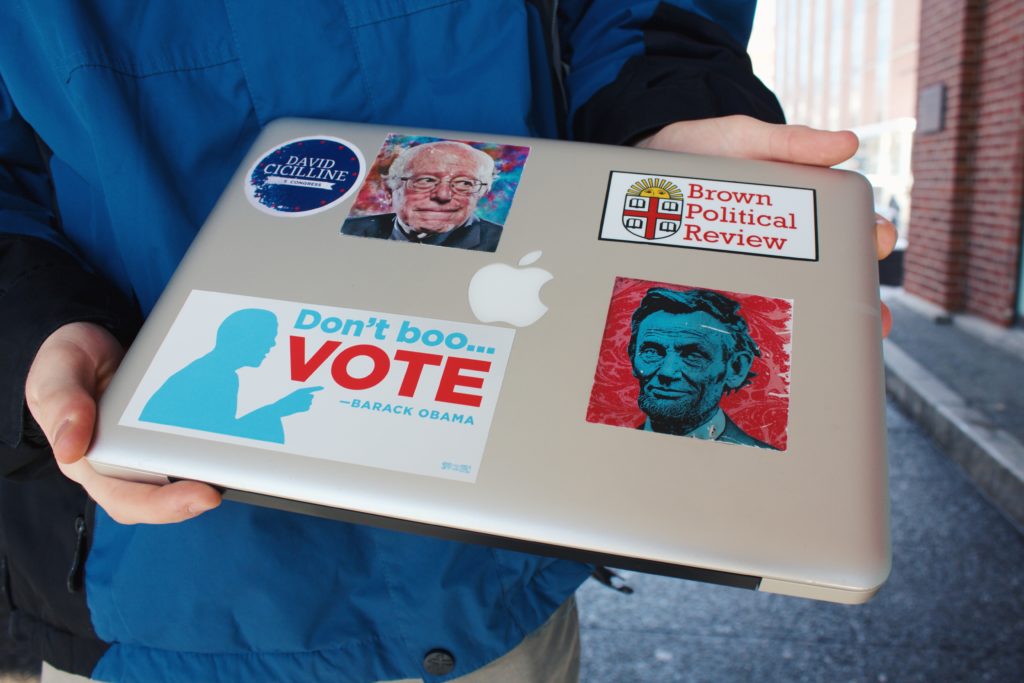 How do these stickers synthesize your political identity?
"Two of them are for candidates for whom I worked, Senator Bernie Sanders and Congressman David Cicilline, so I feel like since I been devoting my time to promoting their candidacies, I should represent them in the manner of making other Brown students know they have the opportunity to vote for these cool people."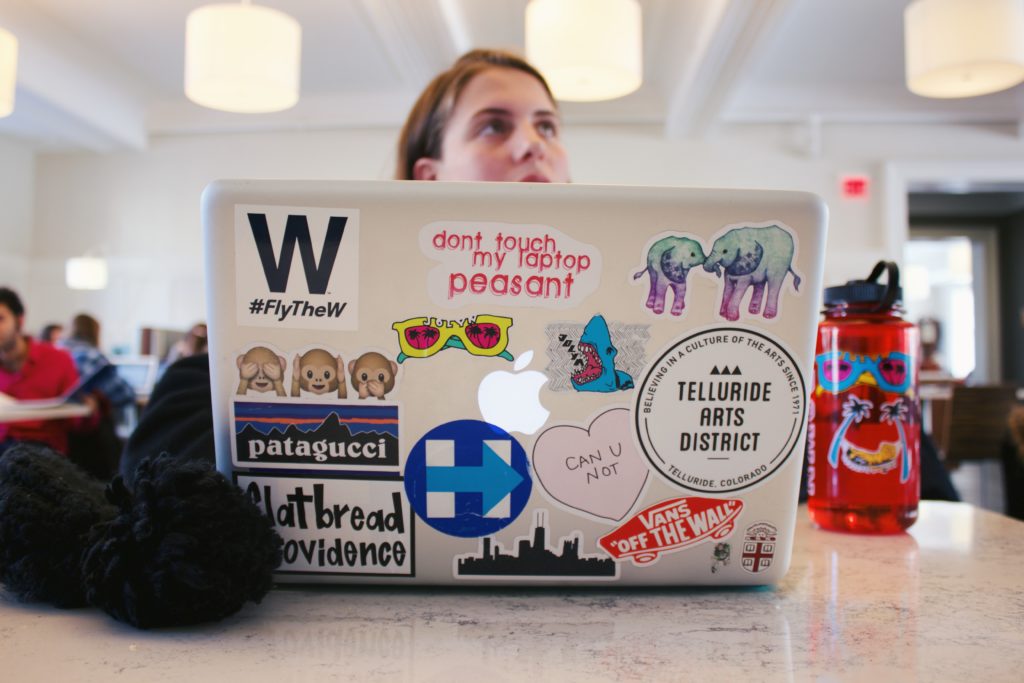 Where did you get your Hillary sticker and why did you chose to promote it? Was there a thinking behind it?
"I got it from someone who was handing them out before the election and I like putting stickers on my computers and felt like I wanted to display it somewhere."
Was it important for you to display your support during the campaign?
"Yeah, it was definitely important to display my support for Hillary during the campaign season!"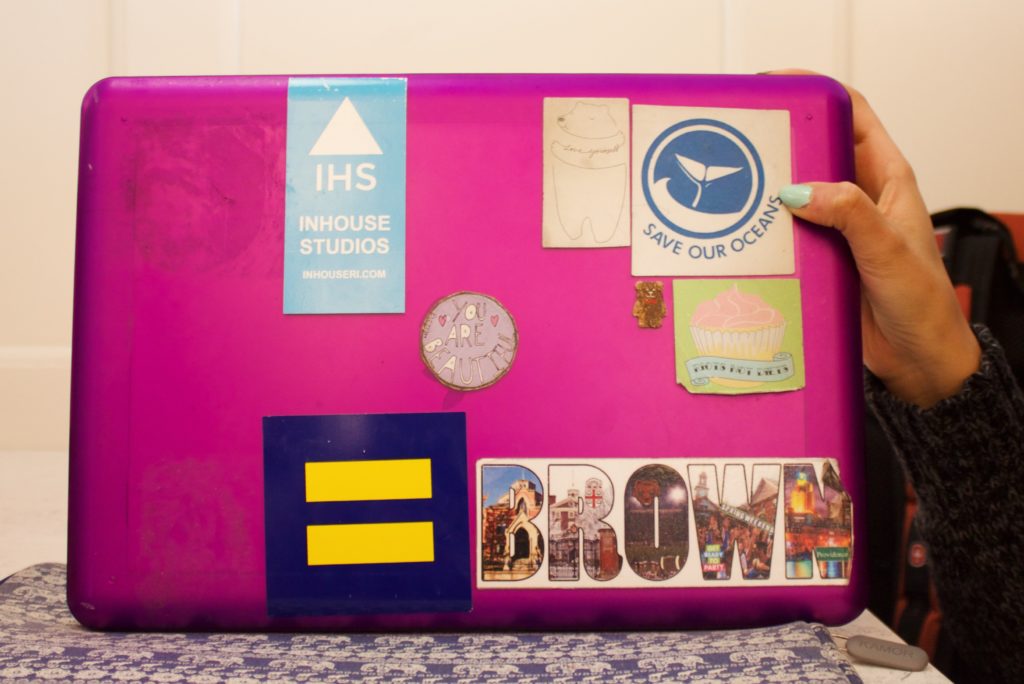 How do these stickers demonstrate your political identity?
"My stickers promote issues that I am deeply passionate about, like body positivity, gender equality, and climate change."
Are you more inclined to talk to people with similar views displayed on their laptop?
"Yes! It shows that we have a common interest!"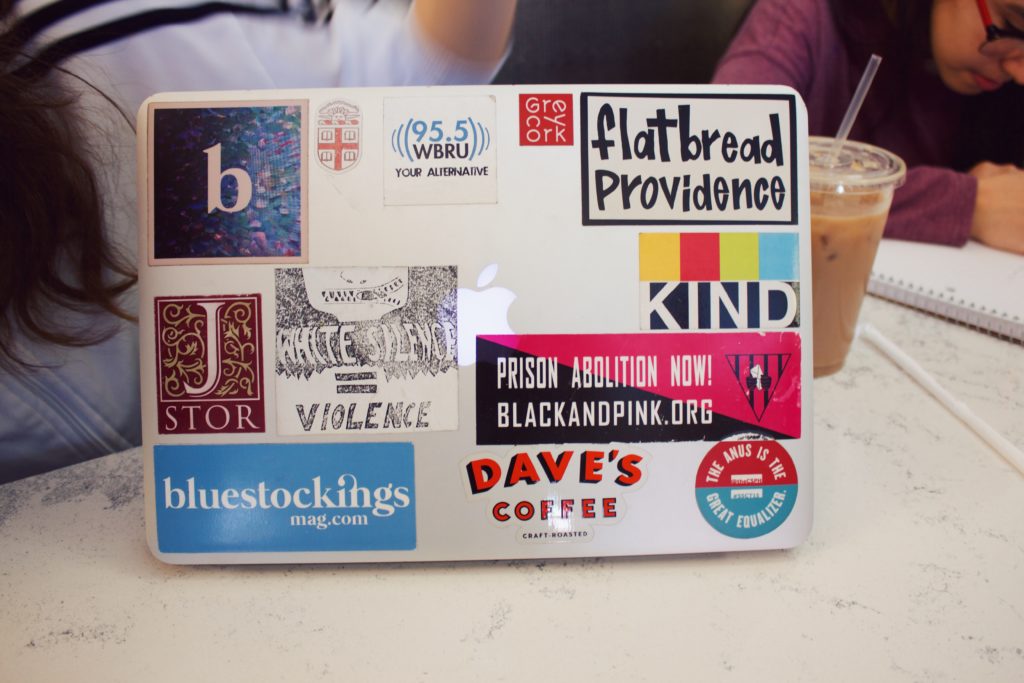 Tell us about your stickers and how they synthesize your political identity.
"The 'Blue Stockings' sticker is from a magazine on campus that I used to write for. It's all about validating different identities and giving expression to marginalized communities. Some of my other stickers, like the 'Black and Pink Abolition Movement', are from walkouts and protests I participated in"
Do you think it is important to express your views on your laptop?
"Yeah, I think it is really important to have my views be known and to express them."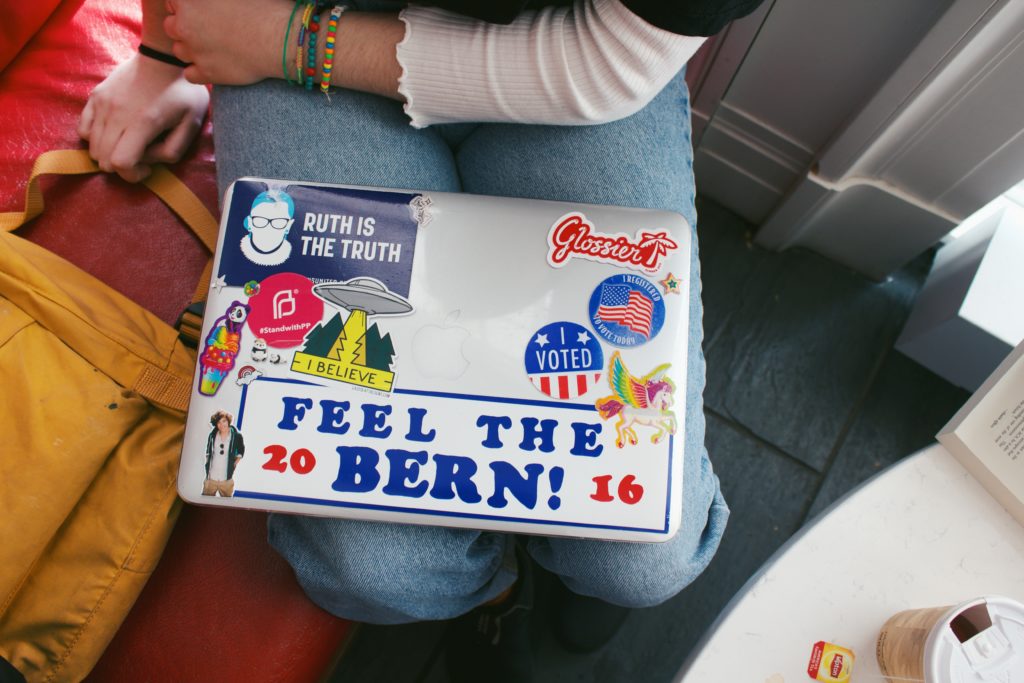 Why do you think it is important for you to have your stickers on your laptop?
"The stickers add a personal element and a way to express my views. The stickers are also a great conversation starter, some people have come up to me before and asked me about my stickers. Some people just need something to a start a conversation with and I think stickers are a great way to do that."
Where did you get your stickers?
"The "Ruth is the Truth" sticker was from my mom. She knew I admired Ruth Bader Ginsberg, so she sent me the sticker. I got my Planned Parenthood stickers from the Brown Feminists. I supported Bernie Sanders during the primaries, so I got this 'Feel the Bern' sticker from Urban Outfitters sometime during the elections."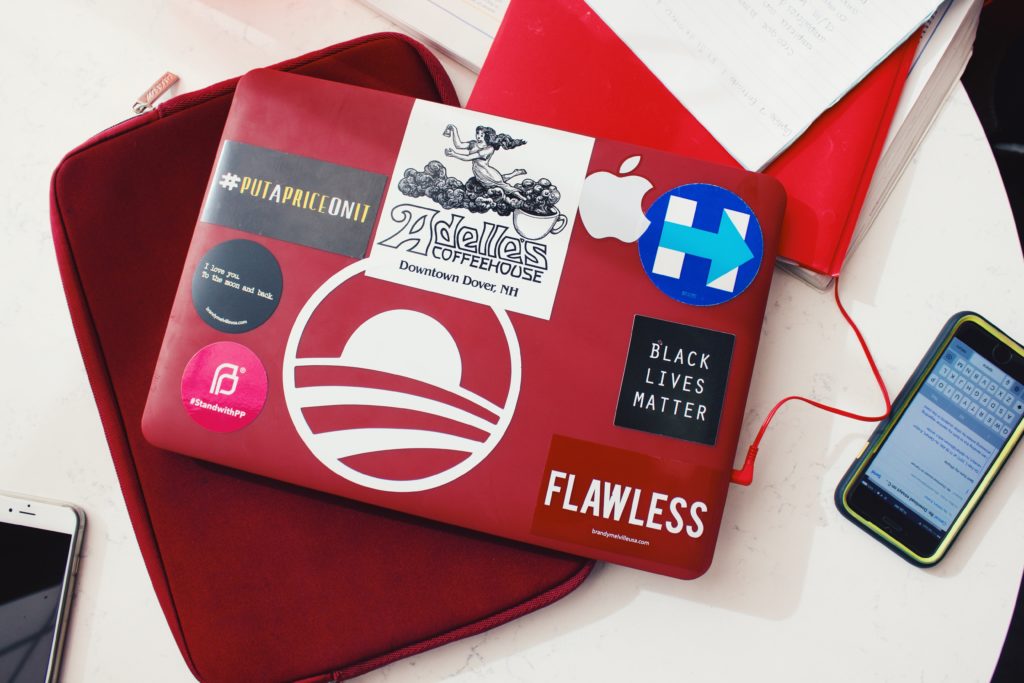 Where did you get your stickers?
"Some stickers I found on my own, others I came across while at activities fairs and club meetings. Some of the stickers came from the Brown Democrats and the Brown Feminists. The Black Lives Matter sticker and the Obama "'Hope" sticker were deliberate purchases because I care about these issues and want to express them."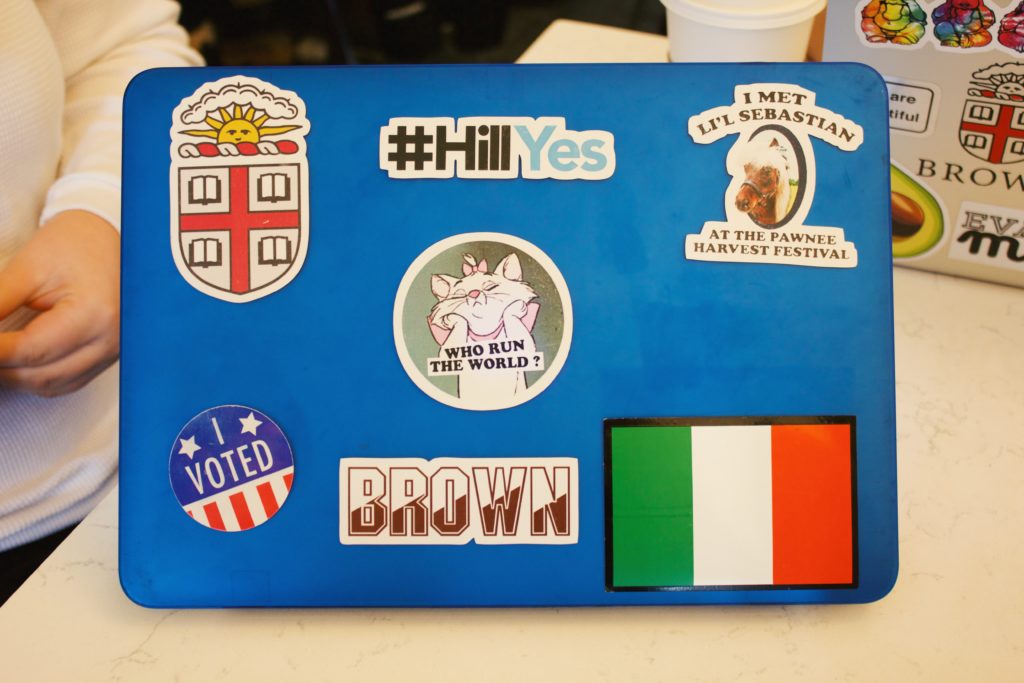 Do you feel it's important to keep your Hillary sticker on your laptop post-election?
"Yes, of course! I'm inspired by Hillary Clinton and all of the work she has done!"
Did you plan the laptop or was it a natural development over time?
"I did plan my laptop, I liked having a nice order to things. I want the political message of my laptop to be subtle, I don't want to rub my beliefs in anyone's face, but I do have the right to express my political beliefs."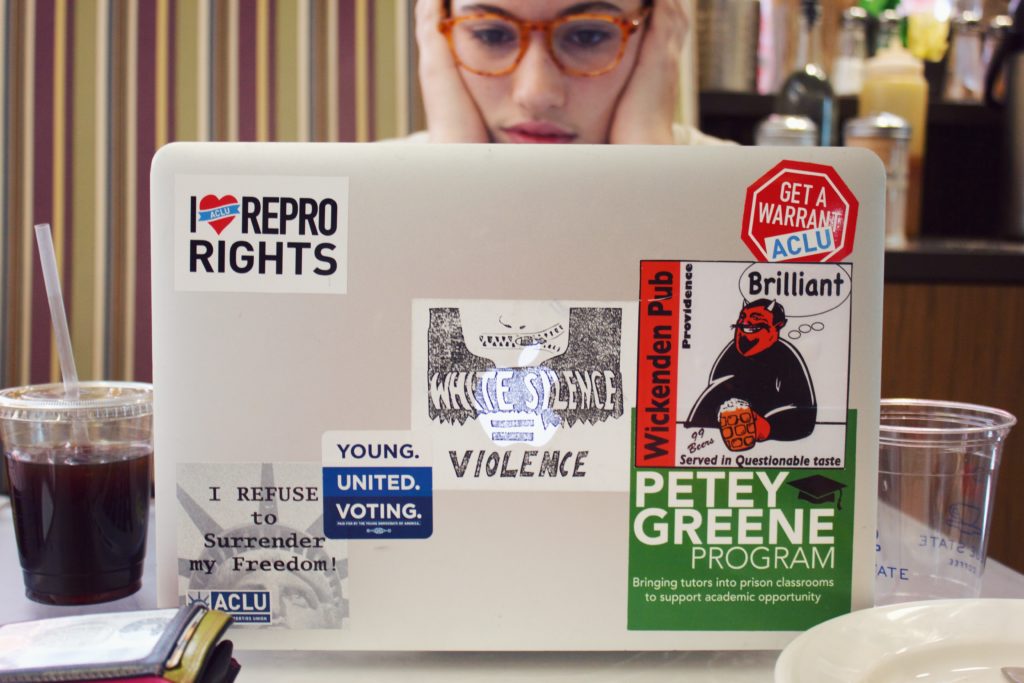 We were unable to conduct an official interview with this student, but the laptop speaks for itself. The stickers indicate a profound support for civil liberties and social justice movements.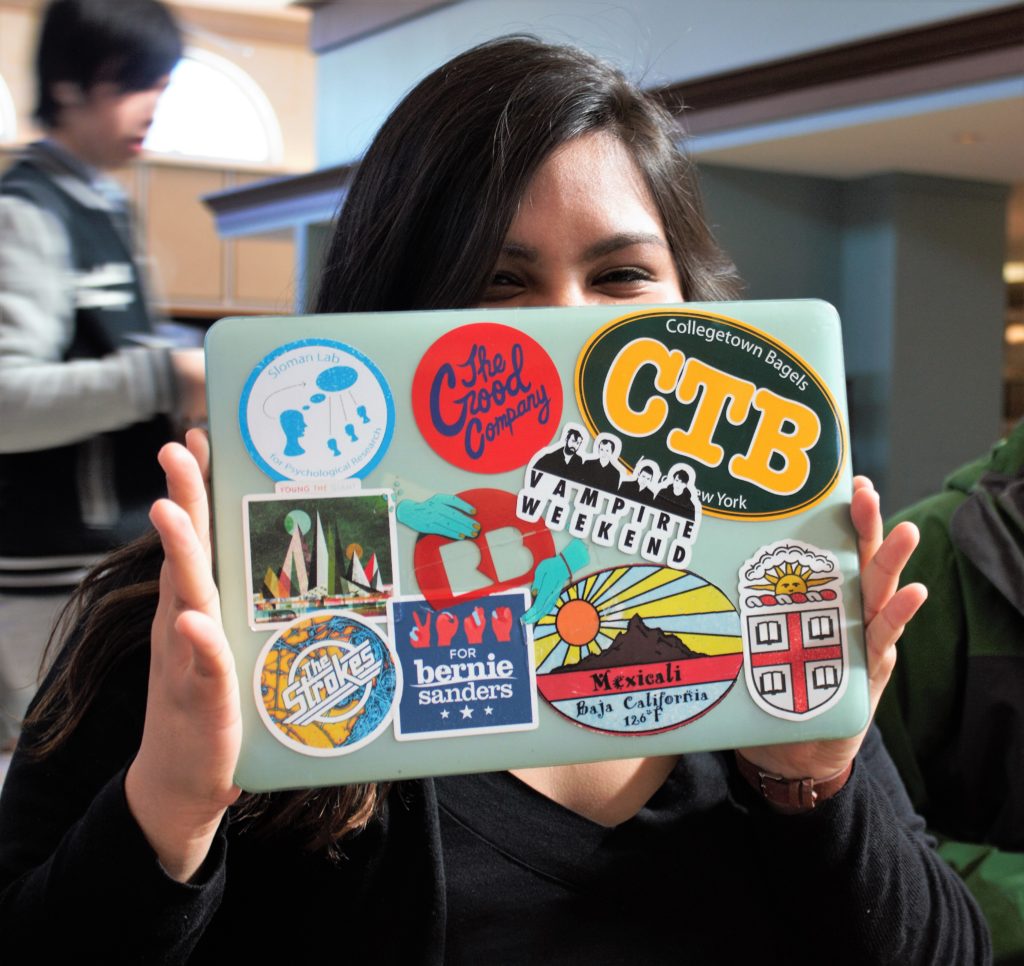 Tell us about the stickers on your laptop.
"I got the Bernie sticker a short while before the presidential primaries to show my support for him and for the causes he was fighting for. Also, the work 'vote' is spelled out in American Sign Language, which I loved because I was learning ASL at the time, so the sticker supported deaf artists and Bernie at the same time!"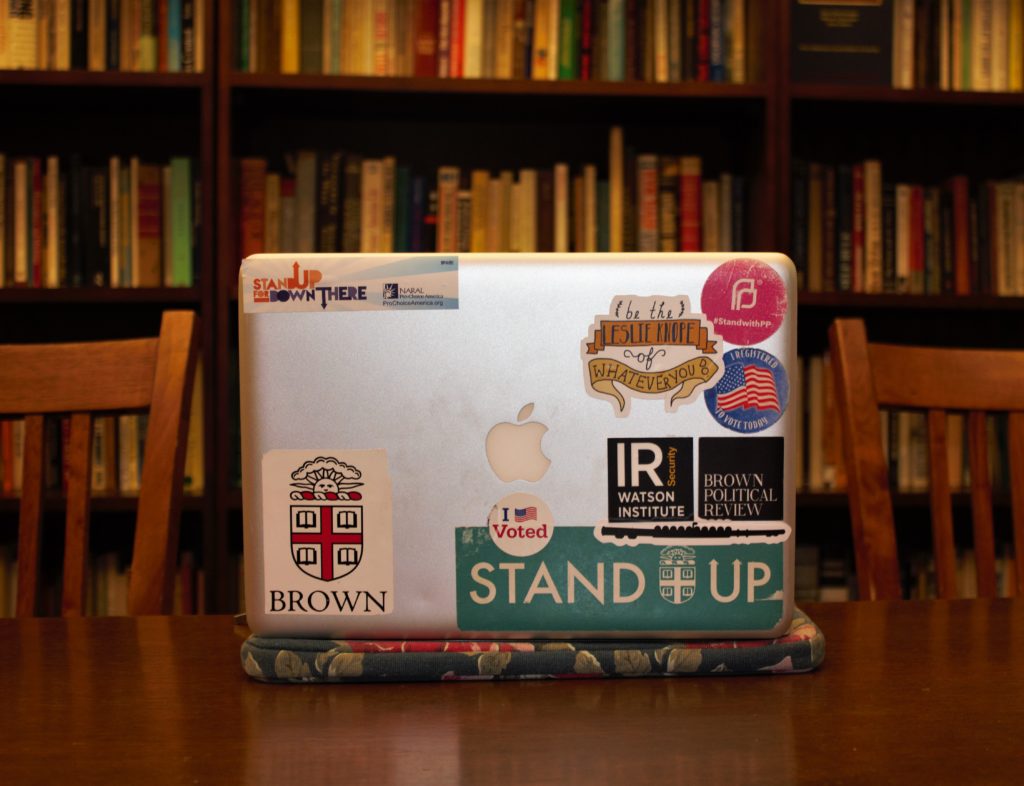 Is the layout of your laptop the result of deliberate planning or was it a natural development? How does it display your political identity?
"My sticker display has definitely evolved over time. As I've become more involved with political causes on and off campus, I've added more. I used to have a Hillary sticker and one for a Florida Senate campaign I worked on in the fall, but I had to take them off while working for a nonpartisan company over winter break. Those stickers in particular were difficult for me to take off, which I think is symbolic about the difficulties in moving on after a campaign you were really invested in doesn't end as you expected it to."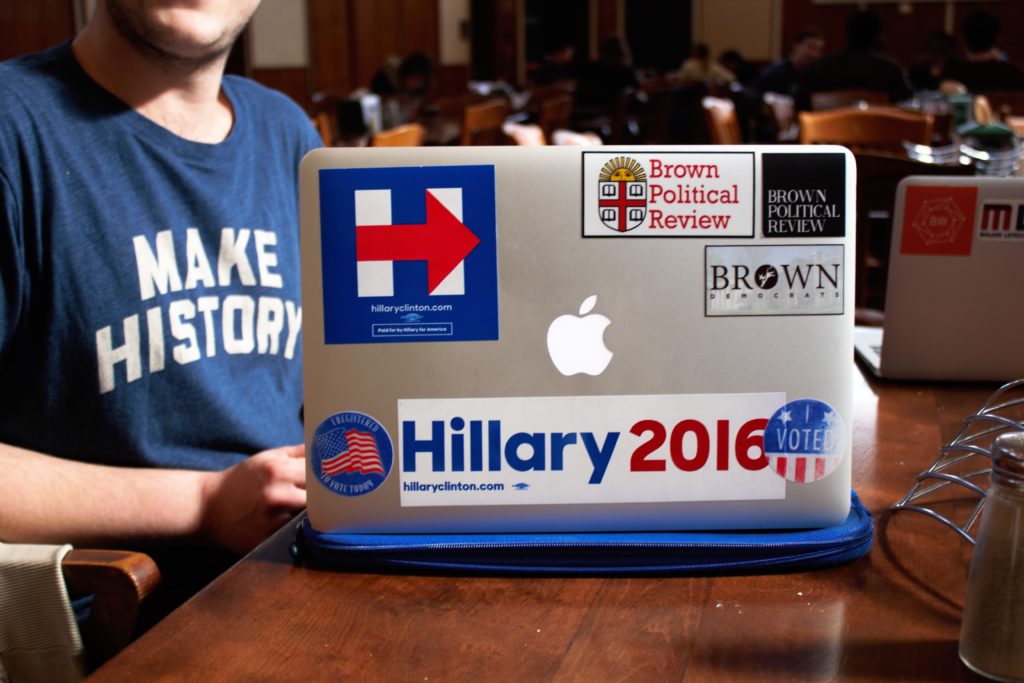 How does your laptop project your political identity?
"As a passionate Democrat, I want people to know what my political opinions are as well as how deeply I care about politics. I don't just sit on the sidelines, I get involved.  Also, I left my 'I Registered to Vote' sticker in hopes that it would remind others to vote!"
Photo Essay by Timothy Peltier and Louise Tisch