Allan Fung is the mayor of Cranston, Rhode Island. Elected in 2008, Fung previously served as City-Wide Councilman and was a prosecutor in the Rhode Island Office of the Attorney General from 1999 to 2001.
Interview by Emily Gelber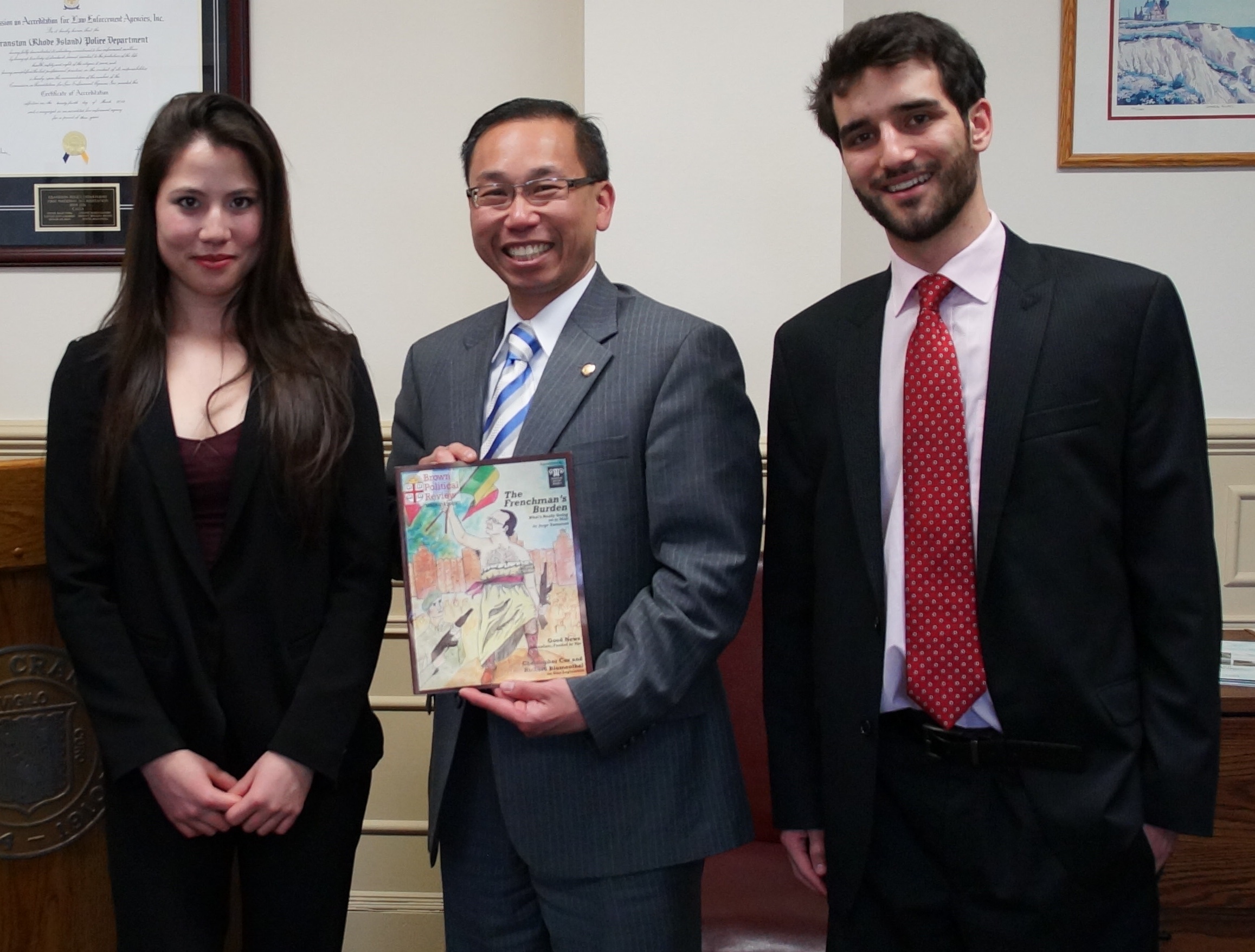 Brown Political Review: You're the only Asian-American Mayor in Rhode Island. Do you feel ties to both cultures? How does that affect your legislating abilities?
Allan Fung: I am proud of being a minority and being Asian-American. I bring a different perspective. It wasn't until 2008–2009 [that] I first won that election and took office as the first Asian-American in the history of our state to become mayor. I am proud of that accomplishment.  I am representing a different set of the population who in the past never had that voice. But overall I represent all 8,000 people in the city of Cranston. I can raise issues that are important at the state level as well.
BPR: The majority of the population in Cranston is Italian, Portuguese and Irish and only about 5 percent Asian American. Is it difficult for constituents to identify with you or you with them?
Fung: I don't see it as an issue. Being a product of Cranston for so long — my family's restaurant being in Cranston for so many years, serving many of the residents — overcomes a lot of those initial fears of "Oh, here come another politician." At the end of the day, even though I grew up in Providence, the race issue did come into play. I can remember that just before Election Day the headline of one of the local papers was "Voters Have Their Choice. Will It Be Chinese or Italian?" I was running based on my qualifications in city council, and right smack before election day they put out the race issue, which really had some subtle undertones during the election process.
BPR: It's interesting that you stayed in Rhode Island, which is not the case all the time. We have some great universities here but we are not keeping the young people in the state.
Fung: And that's very sad and disappointing. You're absolutely right, and that's why I came back. What is disappointing for me as a mayor and elected official is the lack of job opportunities for the next generation. If they are leaving Rhode Island, it does not help our economy in the future. What you're going to have is a more mature population and not enough people to support them, to support the services for Cranston or the state of Rhode Island.
BPR: Rhode Island has the fourth-largest average student loan debt in the country, with students graduating with about $30,000 of debt. Does Rhode Island have jobs to pay for that?
Fung: That's where the governor or my position as mayor has a great responsibility, because the student debt right now is very high. What leaders have to do is make sure the jobs they are bringing in are not the lower-paying type jobs. They should be the type of jobs that match what kids coming out of colleges and universities have that skill set for. It is going to be a balance of economic development to tie into what employers need, but also making sure the students have the skill sets that meet the employers' needs. [Companies] have moved different divisions because students just don't have that skill set [that] they are looking for. That shouldn't happen.
BPR: You have been very successful in bringing Cadence here, which is a major surgical supply company. You also have Alex and Ani [a jewelry company] stationed here. What have you done in Cranston that Rhode Island hasn't done to keep these companies here?
Fung: The first step is providing stability in government. Every time you hear about economic development, the first thing the average taxpayer thinks is, "You have to cut them a tax break." I didn't cut Alex and Ani a tax break, and I didn't have to cut Cadence a tax break. I think in the end, what a lot of the companies want is someone in government that they know they can reach out to and government and the tax structure [that are] stable. They don't want to see fluctuations up and down. And when they're looking to start a business, we work with them from the beginning so they don't encounter those red tape situations that you often hear about in government, and make sure they can get up and running, even if it means getting up and running a few weeks earlier than their expected timetable. That's less expenses that they are going to have to incur and more opportunity to get their doors open. Sometimes simple things like that are a key component to show that businesses and government have good relationships.
BPR: You recently hired Patrick Sweeney as a campaign consultant, but you're not up for mayoral reelection until 2016. Why the sudden help?
Fung: I am taking a serious look at the gubernatorial race. I love this chief executive job. You have so much opportunity to do things and help residents. In Cranston you can see we've sustained a good economic pace. One of the reasons I'm considering that governor race is because it's the same type of challenge — same economy on a bigger scale. I strongly feel a lot of the initiatives I have placed in the last four years in Cranston can translate well to help the state and the economy. That's why I brought Patrick on board. As I take a serious look at that gubernatorial race, I need help on the campaign side to see if this is the right opportunity.
BPR: I wanted to talk a little bit about Boston. It's right next door. What does that mean for the people of Cranston? Are they feeling it?
Fung: Absolutely. What happened in Boston — even back to what happened in New York City on 9/11 — we all feel it. We are strong as a country. We're all feeling these strong emotions against what happened. We feel for everyone that had basically wartime injuries that you would not expect on your home soil. And what you're seeing now is fear. It just happens too often and sends a lot of chills down the people of Cranston, [and] Newtown happened as well…it's your home, it's your community. I've got to step up working with our police officials. We need to make sure this doesn't happen here. In the end we are all one country that was devastated.
BPR: How has your role changed, with Boston right next door and Newtown also in a neighboring state?
Fung: That's what's so crazy about this entire situation. Cranston sits right in the heart of Rhode Island. When you have so many things happening in such a short period, people are on guard because the natural inclination is, "Can it happen in our backyards?" So as the chief executive here, it's my job and responsibility to show that we guard against those kinds of circumstances. We've never had — knock on wood — anything of that nature, but I know our public safety is ready. We've encountered disasters on a different level, more natural disasters, [and] we've come out of it well. The loss of life in any of those situations is a constant reminder as an elected official [that] public safety is of primary importance for all of our residents throughout the state.
BPR: Are you the only mayor in Rhode Island who does not support gay marriage?
Fung: I am the only one who has taken a public traditional view for a couple of reasons. I am more of a traditionalist, and for religious reasons as well. If it passes it passes.
BPR: It looks like [same-sex marriage] could pass in the next week or two.
Fung: From what I understand the votes are there. You never put it out there until the final vote is taken.
BPR: If you are running for governor, do you want a bigger race? Instead of the traditional two-party system, we have an independent and a face off in the Democratic Party potentially. Is that a good thing for you?
Fung: You never know. This is interesting because [when] you take a look at the multiple parties that are out there, you just can't tell. Ideally, we should start thinking about having run-off elections as other states do because whoever is in that office needs to have a majority of the vote, otherwise you're going to have this fractured vote. The election process should be providing some stability in government and confidence in the person that's there, rather than people saying, "We don't like him" because only 30 percent of the people elected him. At the end of the day the electorate and the officials in office have more confidence in the stability in government.
The views expressed in this interview do not necessarily reflect the views of BPR. This interview has been condensed and edited.