By Benjamin Koatz
Just over a year before Martin Luther King Jr.'s assassination, Charles Baldwin, the chaplain at Brown University from 1958 to 1990, wrote him a letter concerning King's planned Sunday morning sermon at Brown. Baldwin wrote he would be delighted if King could stay at least until luncheon hour on Sunday and thanked the reverend for his steadfast service to "peace and justice."
The references to King's ministerial and activist work align perfectly with Baldwin's character — he was a pastor who felt equally as comfortable on the protest line as the pew. Brandishing a sizeable arrest record, he kept social justice at the forefront of Brown's debates during a time of national turbulence. According to an obituary in Brown Alumni Magazine, he believed in "proactive religion" and was given free reign by university presidents to use his position as a spiritual leader in order to advocate for political change. As a result of this, Baldwin spearheaded a program he believed would help Brown fulfill its commitments to liberty and justice for all citizens of the United States: the Brown-Tougaloo College Partnership. The program was formalized in the spring of 1964 and cemented with $245,000 in grants from the Ford Foundation's Fund for the Advancement for Education.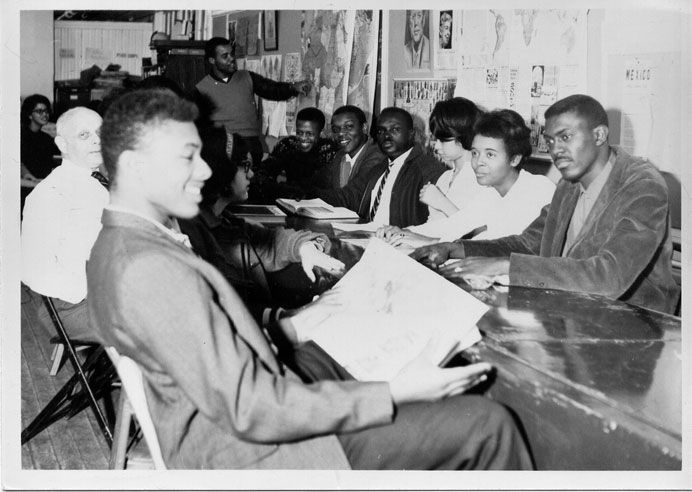 Before the program's inauguration, Brown's status as a historically white, Ivy League school in the Northeast had largely shielded it from firsthand knowledge of the African-American struggle for human rights. The academic and social partnership with Tougaloo — the only black private college in Mississippi — was thus one of many attempts by civil rights leaders on campus to pop Brown's privileged bubble.
Tougaloo is a Historically Black College (HBC), founded by the American Missionary Association of New York in 1869, to educate newly freed slaves and their children. Nearly a hundred years later, as the Civil Rights Movement stewed in the South, Tougaloo became a launch pad and safe haven for activism both within Mississippi and nationally. Its penchant for promoting social change, combined with its financial difficulties, made Tougaloo especially apt for a partnership with Brown, a resource-rich institution eager to dive headfirst into political struggle. The initiative was intended to benefit both schools: It would burgeon Tougaloo's financial and academic resources, while enhancing Brown's ties to an institution of color. The hope was that, through this exchange, Tougaloo could become a high-quality liberal arts school for underprivileged black Southerners, and Brown would gain much-needed exposure to those actually living the struggle that they were verbally committed to ending.
Despite the partnership's noble goals, cracks in the relationship started to appear almost immediately. Looking back seven years after the program's inauguration, Baldwin admitted that although the student exchange seemed to work reasonably well, the faculty exchange program had been operating under a "paternalistic character." Not only did Brown start from a position of immense material and societal privilege compared to Tougaloo, but its actions also served to reinforce that gap rather than overcome it.
Little illustrates this problem more than Brown's first academic endeavor in Tougaloo: the so-called "Language Project." The idea behind this initiative was to have Brown professors teach "standard" English to Tougaloo students; the course was mandatory for all freshmen. The colonialist and racist undertones of the program overshadowed the good intentions that Brown's northern, mostly white educators claimed. African Americans in Tougaloo and its surrounding community advocated against the program, noting its unilateral development by Brown professors and questionable use of linguistics to homogenize speech. Dr. San-Su Lin, a linguist at an HBC in Louisiana who helped develop and teach the program, noted some of its inherent faults:  The Language Project repudiated students' dialects and, "by implication, repudiate[ed] the student himself." Several documents in Brown's archives surrounding this program show just how problematic this relationship was. One Tougaloo student was forced to "correct" his pronunciation during a speech describing his race-driven arrest and jailing. The Project was not renewed after its scheduled end in 1969.
Brown's paternalistic course material was not the only imbalance in the faculty exchange. Baldwin also noted that professors from Tougaloo were never brought in to teach at Brown, even in the University's growing Afro-American Studies Program. He believed that Brown faculty "look[ed] down on Tougaloo," and used the relationship to, in the words of one vocal Black Power advocate at Tougaloo, diminish the school from a black college to a "Brown baby."
It is important to note that strains in the schools' exchange program didn't come solely from its structure and management. Students from both campuses have appreciated the chance to experience a different side of the United States through this exchange, but they have also struggled with overcoming the cultural and racial differences between themselves and their classmates. As the Black Power Movement strengthened in the 1970s, many Brown students were increasingly unwelcome at Tougaloo. One was even told, "Honky, get off this motherfucking campus." Beyond race, Brown's liberal atmosphere often contrasts starkly with the conservative lifestyle of the South. However, these differences are not insurmountable. Hayat Mohamed, a Tougaloo junior who is taking part in the exchange this semester, noted that if Brown students keep an open mind and are "able to get involved in Tougaloo and understand that Mississippi is in the South," they will get along regardless of their backgrounds. The thing to watch out for, Mohamed says, is reinforcing the narrative of "Tougaloo receiving and not giving" in this partnership; if one goes into the exchange with that mindset, it can carry disconcerting undertones of what she termed "white uplift."
Despite these inequalities and challenges, the Brown-Tougaloo program survives as one of the strongest relationships between an Ivy League and an HBC, and it has managed to send approximately 200 students between the schools since 1964. Perhaps the reason for the success of Brown's program is its breadth. The University augments the student exchange with pathways for Tougalooians to transfer to Brown's medical school. Additionally, Brown sponsors many of its own students to spend their spring breaks in Mississippi. While this experience cannot replace a full semester of education, it helps tilt the scale of an exchange that is much more heavily centered on Tougaloo students coming to Providence for the immense academic opportunities of the Ivy League.
Now that most of the upheaval of the Civil Rights movement is gone, many people have lost sight of this program's very existence. Tougaloo has formalized similar relationships with numerous other universities since its original connection with Brown, but Brown has seemingly pushed this program to the wayside. Michelle Johnson '16, who spent last semester in Tougaloo, noted that a "self-selecting" group of Brown students participates in the program; it attracts people "already into activism," she says, which limits its ability to increase Brown's overall commitment to social change. Mohamed points to a focus on "more initiatives for cultural understanding instead of academics" as a possible way forward for the exchange. Either way, this partnership stands as a noble but withered commitment. Even as King's Sunday sermon passes from Brown's memory, College Hill still claims this Mississippi HBC as a partner in engaged social justice.