"The punk scene, the hardcore scene, was smoking," Umberto Crenca proclaimed, referencing Providence in the 1980s. Crenca is well-positioned to opine on the city's music scene as the founder of AS220, a community nonprofit in downtown Providence that has been hosting independent music performances for decades. Providence punk is past its heyday now, but many disagree on the reason for its decline. Regardless, any effort to revitalize the city's punk scene will require a turn toward Do-It-Yourself (DIY) spaces and the collective and strategic mobilization of punks. Show attendees must also become patrons of the scene—that is, they need to offer financial support so that venues can remain solvent after the Covid-19 pandemic.
The "smoking" scene of the 1980s was saturated with downtown clubs that hosted punk acts. The most famous was The Living Room on Westminster Street (and later on Promenade Street), which boasted an almost unjuried performance policy, meaning nearly any artist could perform. Other venues that hosted punk acts, such as Lupo's Heartbreak Hotel, Safari Lounge, and Club Babyhead, were all nearby. In addition to a supply of venues, there was high demand for punk. Dave Chabot, a guitarist for Providence punk legend Neutral Nation—and a chef at Brown's Sharpe Refectory—argues that social bonds between bands helped form the scene. Chabot also touted the "farm system"—where well-known bands opened for smaller ones—recalling that the now-seminal indie rock band Pixies used to open for local Providence bands in the 1980s. Crenca added that, given the economic malaise in the downtown area in the 1980s, the punk scene served as a "lifeline" for many people. This enthusiasm for punk helped "put [the city] on the map" by encouraging rock bands to include Providence on their tours.
Chabot observed that rising rents downtown shifted punk to Olneyville, a poorer neighborhood populated with cheap lofts in defunct mill buildings. Olneyville became a new artistic hub as creators converted these edifices into punk venues and art studios. The most notable was Fort Thunder on Oak Street, where the only rule was that "you can make as much noise as you want, any time of day and [no one can] object to that." It thrived under a disinterested landlord for six years until fire marshals evicted the tenants in 2001. Though not everyone agrees that gentrification ruined the punk scene, the fall of Fort Thunder perpetuated a trend in Olneyville that could not be ignored. A leasing agent from Struever Brothers, Eccles and Rouse (SBER), the real estate developer chiefly responsible for gentrifying Olneyville, was even quoted stating that SBER buyouts of mill buildings could transform the neighborhood from "the ghetto" to "a really cool neighborhood to live in." Olneyville was becoming hip, and this new direction meant kicking out punks.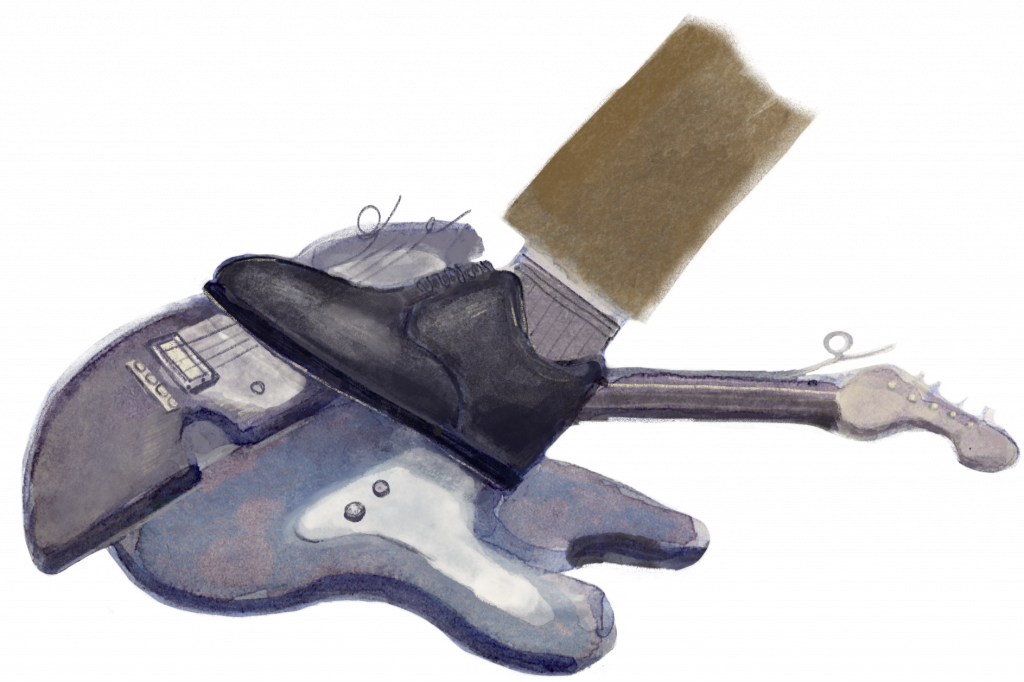 To Crenca, however, the narrative of "declining" Providence punk can be attributed to misplaced nostalgia rather than gentrification, given that many of the clubs reopened after shutting down. In his view, punk has simply left the cultural zeitgeist, giving way to other genres and forms of artistic expression. Slam poetry, for example, is the "spoken word of punk" in Crenca's eyes. Downtown venues also needed to appeal to more than just the alternative crowd. Coming to this realization in the mid-1990s, Club Babyhead began to book more mainstream musical acts in order to pay the bills.
While there is disagreement on the root cause, most acknowledge that the Providence punk scene has declined. So how might it be revived?
For the Providence punk scene to rebuild, DIY venues must be cultivated across the city. The key advantage of this type of venue is that they can pop up much quicker than clubs or bars. However, running them is often difficult, particularly because rising rents complicate the operation of these spaces. Marc Moreno, a Providence local who books shows, fronts a punk band, and produces zines, declares that as rents have risen and warehouses have transformed into residential spaces, it has become difficult to "maintain and create new standalone, fully licensed, all-ages DIY venues." Even non-licensed venues are precarious, notes Carlos, who runs a house venue in Olneyville called Al Dios. In their lifetime, they've observed a decline in these kinds of spaces as tenants' leases expire and renters can no longer afford skyrocketing monthly payments.
Offsetting the effects of gentrification will be difficult, but it is not impossible. Carlos does not think the scene is dying anytime soon, proclaiming that "even with a lack of resources, people end up fighting and making do with what they can." They also stressed the importance of financial collectivization after the pandemic, insisting that "so long as people decide they want to collectivize with each other…pretty much anything is possible." Not only does this require punks to pool resources when starting venues, but it also means that fans of the scene cannot free ride on the hard work of DIY venue operators. Show attendees will need to go the extra mile and contribute financially to ensure that house venues remain solvent after the Covid-19 pandemic.
The specter of Fort Thunder also looms over DIY venues. Unlicensed venues run the risk of noise complaints, police crackdowns, and fed-up landlords. The Funky Jungle, a DIY venue in the Elmhurst neighborhood that hosted raucous shows for over a decade, met this fate a few years ago when its landlord kicked out the tenants. The building soon became a Providence College fraternity house. Evidence from New York City suggests that gentrifying neighborhoods has led to a rapid increase in noise complaints, most likely due to more affluent transplants making 311 calls on their neighbors. As its neighborhoods continue to gentrify, Providence could suffer the same fate.
To be clear, the "smoking" club scene of the 1980s downtown will never return. In expensive, 21st century Providence, it would be unimaginable for a large concentration of clubs to reopen downtown. Nostalgia for this bygone era will not reinvigorate the scene. But countering the Fort Thunder problem is not impossible—Al Dios provides a good model for the future. Since Carlos' neighborhood is tolerant of noise, loud shows tend not to faze their neighbors. Creating long-lasting DIY venues, therefore, will require punks to be strategic about the spaces they choose to rent. Supporters of the scene will also need to be extra committed to preserving venues' secrecy, lest the police raid a show and shut it down. Boston serves as a cautionary tale: A few years ago, multiple DIY venues closed down when cops masqueraded as punks online, asked for addresses, and raided venues.
Providence punk is a shell of its former self, and the Covid-19 pandemic has only facilitated the scene's decline. While demand for experiences like punk shows will inevitably increase when the pandemic ends, the economic reality of gentrification will remain. Thus, rebuilding the scene will require intentionality. Just as punks in the 1980s and 1990s upheld Club Babyhead by treating it as their "lifeline," punks these days need to do the same.