At least four residents of Fort Lauderdale, Florida, including a 90-year-old man, face up to 60 days in jail or a $500. Their crime? Feeding the homeless.
In late October, the Fort Lauderdale City Commission approved Ordinance C-14-42. The measure is the latest in a string of ordinances across the country that place restrictions on how, when and where social service workers can distribute food to homeless persons. The subsequent outcry against Fort Lauderdale's ordinance may indicate that the public is reluctant to overtly criminalize feeding the homeless; yet, the proliferation of these laws in cities across the country suggests a different story. The debate over such measures highlights the difficulty of listening to the demands of residents and business owners without infringing upon the rights of homeless communities.
The Fort Lauderdale ordinance lays out rules for the provision of food and other services by a social service facility, which it defines as any philanthropic organization that offers food, counseling, hygiene care, day shelter, or the like. The measure aims to resolve the "serious objectionable characteristics" its supporters believe exist in current programs that feed the homeless, which the ordinance says "may result in adverse secondary effects on adjacent properties." The regulations include: food distribution centers and alcohol treatment centers cannot be located within 500 feet of residential property; centers cannot be within 500 feet of one another, and only one social service facility is allowed on each block; every food distribution center, both indoor and outdoor, must provide restrooms, equipment for hand washing, and a means by which to dispose of waste; social service facilities can only have operating hours of 7am to 7pm; and any exterior areas, like patios or waiting areas, must be enclosed with a fence, wall or hedge. In these provisions, hostility to making feeding operations visible to the public is scarcely concealed.
The City Commission passed Ordinance C-14-42 over the cries of opponents, who describe it as inhumane, discriminatory and overly restrictive. On October 22, the day after the ordinance's passage, Fort Lauderdale's Sun Sentinel reported that protesters had gathered outside of City Hall during the commissioners' meeting. Protesters chanted "Hey, Jack, what do you say? How many homeless did you starve today?" directed at the city's mayor, Jack Seiler. In an act of solidarity, advocates for the homeless also held a mass food-sharing event prior to the meeting. In the weeks since the ordinance's passage, opponents continued to mobilize: a website posts frequent updates on what they call the Homeless Hate Law, and solidarity actions range from one woman's hunger strike to an upcoming protest in front of the mayor's house. One of the organizations involved in the resistance is Food Not Bombs; the organization's website reads, "Food is a right, not a privilege. Sharing food with the hungry is an unregulated act of compassion." Three Food Not Bombs members were arrested on November 7 while feeding the homeless in a public park, according to the Sun Sentinel. Another involved organization is Love Thy Neighbor, with 90-year-old Arnold Abbott at the helm. Abbott, who has been feeding the homeless in Fort Lauderdale for the past two decades, has received international attention in recent weeks for continuing to serve meals outdoors despite several run-ins with the police.
Mayor Seiler and his supporters, however, have stood by their convictions that helping the homeless should not disturb local homeowners and businesses. In response to the wave of news coverage, which he has acknowledged is turning into a public relations problem, Mayor Seiler has released a statement defending the ordinance. Published on the city website, it reads in part, "Let's set the record straight. Contrary to reports, the City of Fort Lauderdale is not banning groups from feeding the homeless… The ordinance does not prohibit feeding the homeless; it regulates the activity in order to ensure it is carried out in an appropriate, organized, clean and healthy manner." In this view, the ordinance is a necessary and appropriate regulatory tool that will ensure the health and safety of community members. Others see charity programs as ineffective and disruptive of local life. Ron Book, a lobbyist and chairman of the Miami-Dade County Homeless Trust, told the City Commission as it debated the legislation, "Feeding people on the streets is sanctioning homelessness. Whatever discourages feeding people on the streets is a positive thing." This statement seems to suggest that feeding programs may somehow encourage or legitimize homelessness.
Fort Lauderdale is hardly alone in passing this type of legislation. In a report published in October, the National Coalition for the Homeless names 21 cities that have formally restricted feeding the homeless — Fort Lauderdale now makes 22. The list includes three other cities in Florida — Lake Worth, St. Petersburg and Daytona Beach — as well as four cities in California, two in North Carolina, two in South Carolina, two in Washington, and one in Texas, Oklahoma, New Hampshire, Oregon, Utah, Missouri, Indiana and Pennsylvania. Ten more cities are currently considering similar ordinances. Others have taken a different approach to the issue of homelessness by criminalizing sleeping in public places or prohibiting panhandling. In fact, in two additional ordinances this fall, Fort Lauderdale banned these activities as well. It is perhaps no surprise that these laws have sprung up around the country, given that homeless communities lack the political clout and financial resources needed to organize in opposition.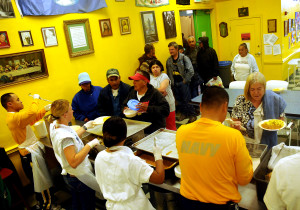 These types of legislation, which effectively criminalize the existence of homeless people in public spaces, come as cities grapple to deal with their homeless populations. A map on the website of the United States Interagency Council on Homelessness shows that Florida, California, Texas and New York each have homeless populations of over 25,000 people. North Carolina, Washington, Oregon and Pennsylvania — all of which have cities with restrictive feeding ordinances — fall into the second tier, with homeless populations of between 10,000 and 25,000 people. According to the National Alliance to End Homelessness, over 600,000 people are homeless in the United States on any given night. Therefore, these ordinances seem to be at once a backlash against these large homeless populations motivated by frustration or fear; a balancing act juggling the demands of homeowners, businesses and social justice groups; and, as National Coalition for the Homeless executive director Jerry Jones told Reuters, a way for cities to appear proactive on homelessness without having to spend money.
In passing these measures, cities are only adding to the desperation of an already vulnerable group. The measures cut off homeless persons' food sources, give them no place to sleep and prevent them from asking passerby for help. Other regions, however, have approached homelessness very differently, by passing Homeless Bills of Rights. Homeless Bills of Rights prohibit discrimination based on homeless status, and they affirm homeless persons' right to vote and to use public spaces, including sidewalks, parks and transportation. Rhode Island was the first state to pass such a law, in June 2012, followed by Connecticut and Illinois. These laws reinforce the rights of homeless individuals and confirm that they are legitimate members of their local communities. As it contends with its sizable homeless population, and as it considers how to rectify its public image, Fort Lauderdale might take a cue from these states.