You can accomplish a lot on your phone apps in fifteen minutes. You can download a novel on the Kindle app, share photos on Facebook, order an Uber taxi — and now, you can receive a birth control prescription and have it mailed to your doorstep.
In September, Planned Parenthood launched the pilot program of a new service: virtual consultations with its health care providers. To access the service, users need only download the Planned Parenthood Care app — available for iPhone and Android — or visit the organization's website. Then, after submitting some basic information, the client can see which health care providers are available to video chat. After a 15-minute consultation on contraceptive options, the provider prescribes the selected birth control option, which is then mailed directly to the client's home — a convenient alternative to an office visit and trip to the pharmacy. In October, the service also began to offer STD testing, with test kits and treatments mailed to patients' homes.
This new service represents a technological and generational shift in the provision of medical services, as health care delivery changes to cater to a technologically savvy generation. Sarah Stoesz, president of Planned Parenthood Minnesota, North Dakota and South Dakota, told The Huffington Post, "Every generation of women is different from their mothers, and what's different about the current generation of young women is that they live a whole lot of their lives online. We don't want to be our mothers' Planned Parenthood, we want to be our daughters' Planned Parenthood." As Stoesz suggests, a great deal of our interactions happen electronically; We, as a society, are glued to our cell phones and laptop computers. It is a logical progression, then, that our health care would move into the virtual realm as well.
In fact, much of our care already has. Although we may not notice it, much of health care already occurs in the online realm. The industry is referred to as telemedicine or telehealth, defined by the American Telemedicine Association as "the use of medical information exchanged from one site to another via electronic communications to improve a patient's clinical health status." Millions of individuals around the world receive care via telemedicine each year, and its importance to the health care sector is growing. An August 2014 study by the National Business Group on Health found that half of surveyed employers intend to offer telemedicine options in their health plans for the 2015 year. A March 2014 report by the firm Research and Markets forecasted that the value of the telemedicine industry would increase from $240 million this year to $1.9 billion in 2018. Deloitte has predicted that of 600 million general practitioner visits in 2014, 75 million will occur virtually.
Examples of telemedicine abound, including: emails between primary care physicians and their patients; live videos and still images sent to specialists to aid in diagnosis; and devices that track blood glucose or heart ECG and transmit that data to doctors, a practice called remote patient monitoring. The Minneapolis/St. Paul Business Journal reports that Mayo Clinic has begun a pilot program in which kiosks are set up in workplaces for telehealth video calling, so that employees are able to access care for minor health problems without missing work. As these examples demonstrate, telemedicine is efficient and adaptable.
In a world where technology has revolutionized the concept of convenience, Planned Parenthood is attempting to keep pace with the times. Currently, virtual visits are offered only to those in Washington and Minnesota. The selection of these states for the pilot program appears to have been based in expectations of support: The Seattle Times, in an article titled "Birth Control A Few Clicks Away," credits Washington's inclusion in the pilot to its progressive stance on reproductive rights and its strong Planned Parenthood chapter. The Minneapolis Star Tribune notes that Washington and Minnesota are home to two of Planned Parenthood's largest offices. The organization intends to expand the service to additional states and services.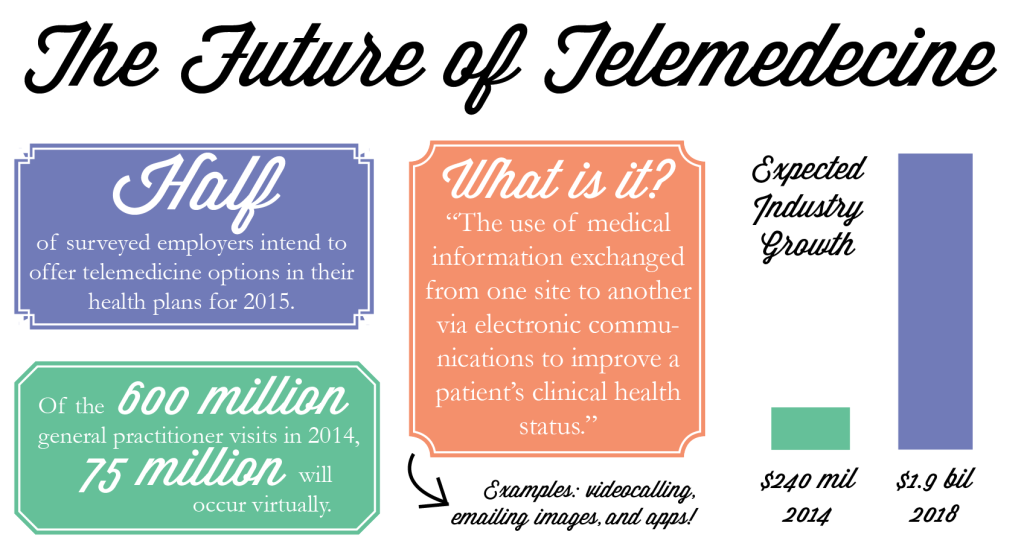 However, in the hotly contested realm of women's reproductive healthcare, Planned Parenthood's new virtual consultation services have inevitably generated controversy. Some feel it would be remiss to replace in-office examinations and personal communication with video chats over a phone app. Others worry that it will lead to easier access to abortion. Dan Kennedy told The Seattle Times, "We know how these things start. Who is honestly going to believe that's as far as it goes?" Kennedy's claims are not entirely unfounded, since Planned Parenthood offered video consultations on abortion pills for several years in Iowa. However, this critique of the program is politically motivated rather than concerned with the medical aspects, such as quality of care. Meanwhile, in Iowa, the fate of abortion pills prescribed through video consultations remains uncertain. In August, a judge upheld a 2013 ruling by the Iowa Board of Medicine that requires an in-person visit and physical examination before a provider can dispense any abortion-inducing medication; The Iowa Supreme Court has stayed that decision while it deliberates.
Cost is another concern. The price tag of a video consultation is $45 per visit, payable with a credit or debit card, since the service does not yet take insurance. This puts it out of the reach of many. Still, the virtual consultation service will likely enable many people to access health care who were previously unable to do so. People who live far from a Planned Parenthood office, particularly those living in rural areas, stand to benefit significantly. So do young people who feel nervous to visit a clinic on their own, individuals who work long hours and anyone who is embarrassed to receive STI testing in person. In fact, as discretion and privacy are chief concerns to many, the Planned Parenthood program mails clients' prescriptions in unmarked packages. Importantly, moving conversations about contraceptives and sexually transmitted diseases to the virtual realm, one in which teenagers feel comfortable, is likely to facilitate and ingrain safer sex habits in young people. Because it allows for privacy, encourages safe sex habits and expands health care access, the video consultation program strengthens women's reproductive freedom.
Telemedicine is revolutionizing the provision of health care services. Bearing in mind considerations of convenience, morality, cost and quality, is the rise of telemedicine a positive development? Karen Marlo, vice president of the National Business Group on Health, advocates for a balanced approach to telemedicine: "Where it's appropriate, I think [telemedicine is] a great opportunity. If you're traveling on business and you're not sure if you have bronchitis or just a really nasty chest cold, it can help you. I don't think it's the silver bullet. It doesn't replace that ongoing relationship that an employee should have with a primary-care doctor to manage the larger, more complex health issues they have." In this view, telemedicine is certainly appropriate — and useful — in situations of minor or routine health issues. Whether or not birth control constitutes routine health care is a question best left to each individual — nevertheless, it is always good to have the choice. The Planned Parenthood Care app offers this choice.