As March is Women's History Month, it marks a time for reflection on the state of human rights of women worldwide, especially those living in areas of entrenched violence. This topic is of particular relevance to what the United Nations has described as the most murderous region of the world: Latin America. Amnesty International's latest annual report, released this March, has served as a reminder of the disproportionate gendered violence that women endure in the region. According to the report, every single day at least two women are murdered in Honduras, Guatemala and Mexico on the basis of gender discrimination. According to Guatemalan Nobel Peace Prize and female indigenous activist Rigoberta Menchu, such femicides — the targeted murder of women — represent a growing crisis.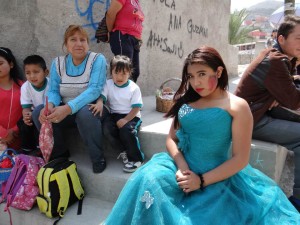 In the context of Mexico and Central America, the term feminicidio, or femicide, first became applicable in the Mexican border city of Juárez, where in the 1990s an unprecedented rise in the number of female homicides alarmed the country. Starting in 1994, young, working-class women, usually between 13 and 18 years old, became the central target for horrendous crime. Victims were raped and violently killed, their bodies dumped on highways. While the exact number of victims has never been established due to lack of documentation and transparency on behalf of the Mexican government, an estimated average of 250 women have been killed every year in Juarez in the past two decades. In 2010, the official estimate was 326 victims. Estimates released in 2012 counted over 1,800 women as having disappeared over the prior six year period.
Three main causes have been attributed to Juarez's femicides. First and foremost stands Mexico's macho culture, in which violence against women is often accepted as a cultural norm. Second, Mexico's profoundly corrupt judicial and federal systems translate into a loose enforcement of the law, providing no incentives to act within established legal frameworks. The fact that over 75 percent of femicide cases remain unsolved illustrates how perpetrators may easily go unpunished when committing crimes against women. Third, the massive opening of maquiladoras, or manufacturing factories, in the city vastly altered the economic makeup of Juarez. Following the North American Free Trade Agreement between Canada, Mexico and the United States, Mexican border cities became a hotspot for US firms due to the availability of cheap labor and their proximity to the United States. New job vacancies became an appealing opportunity for many young women from the northern states of Mexico living in economic hardship, who consequently moved from their local towns to the city slums, leaving their families behind. As women new to the area returned home alone from their late shifts, they became an easy target for gender-based violence.
The problems in Juarez brought light to the issue of gender-based homicides in Mexico, described as a femicide pandemic by Ana Güezmes, the local representative of United Nations Women. After Juarez, many local and national activists, as well as NGOs, started following femicide cases and pushing for changes to existing legislation. These efforts have done a remarkable job in documenting cases and offering support to survivors. In 2012, Mexico finally enacted a change in its laws to specifically deal with femicides. As a result, all murdered females presenting evidence of sexual assault and physical violence, who were in prior situations of domestic violence, or whose corpses are displayed in public, are now considered victims of femicide.
While the change in laws marked an essential step, the femicide issue has only worsened in the recent years, partly due to the exacerbation of violence brought about by Mexico's war against drugs. According to the most recent report of the National Observatory for Femicide, the femicide pandemic costs the lives of six women every day. The Observatory also found that of 3,892 reported cases of femicide in 2012 and 2013, only 24 percent were investigated by authorities and only 1.6 percent led to sentencing. More recent investigation has pointed out that, in fact, it is not the state of Chihuahua—where Juarez is located—that has the highest rate of homicides in the country but El Estado de Mexico, a state in central Mexico. In 2014 alone over 400 girls went missing and were presumably killed in El Estado de Mexico.
Mexico is not alone in its crisis of femicides. Central American countries have a higher rate of gender-based assassinations than do the rest of the world's regions. Neighboring Guatemala has the highest rate of femicides in the region and is ranked third in the world, as reported by the UN High Commission on Human Rights. Just as in Mexico, Guatemala has enacted a change in laws to specifically address femicide since 2008. But with only 2 percent of cases arriving to court, it is clear that the nation lacks a fair and functioning justice system and strong rule of law. Guatemala has not yet recovered from the weakening of its governmental institutions, the legacy of 30 years of civil war and genocide. Drug war related violence has only worsened the situation. Amnesty International reported 522 victims of femicide in Guatemala in 2014.
Honduras, the country with the highest murder rate in the world, has not yet enacted legislation to address its gender-based homicides. One of the biggest issues that presents a formidable obstacle is the framing of femicides as passion crimes, as in the case of the murder of Miss Honduras and her sister last November. The young women's dead bodies were found after six days of having gone missing from a party in Tegucigalpa, the nation's capital. A few days later the sister's boyfriend confessed responsibility for the crime, having killed his girlfriend out of jealousy after seeing her dance with another man. Passion crimes presume a certain degree of female responsibility in the crime, as it implies that they are in some way culpable for their own death. In a country where 95 percent of crimes go without sentencing, the misframing of femicides is an impediment to justice. Last year, 636 women were killed in passion crimes in Honduras.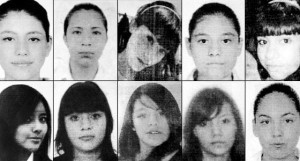 In addition to deficient legal systems, Mexico and Central America confront another issue that has added to the incremental increase of femicides in the latest decade: militarization. Honduras, Guatemala and Mexico have undergone a militarization of their territories as a result of political conflict. In Honduras, military expenditure and presence has risen since the coup d'etat in 2009. In Guatemala, continuous military presence has been the legacy of thirty years of civil war that only ended in 1996. In Mexico, army troops have patrolled the streets in their efforts to directly combat the drug cartels since 2006. Because militarism spreads a culture of violence by allowing more access to arms and generating an environment of tension, it can have deleterious societal effects. In the case of Central America, militarization has caused an unprecedented exacerbation of violence that as of today, has spiraled out of governmental control and become in and of itself a political conflict. In a region where gender relations are defined by the cultural norms of machismo, however, army presence and abuses have had a more negative impact on women. As Rigoberta Menchu points out in her report on women's violence, when the military's strength increases, so too do femicides.
On March 8, International Women's Day, a demonstration of teenagers dressed in quinceañera dresses marched in one of Latin America's most dangerous neighborhood, Ecatepec in Estado de Mexico, protesting against gender-based violence. "We are sick of being seen and being treated as sexual objects" they said as they walked, surrounded by a crowd of over 200 locals. They gave voice to a concern that is shared by many women in the region. Normalized gender violence in Mexico and elsewhere in Central America is a profound cultural issue, one that will require more than governmental policies to be overcome. As a cultural norm, machismo needs to be addressed from its basis, in the willingness of society to recognize that it generates disparity and reproduces a cycle of violence. The young teenagers' efforts are a valuable example of a societal cry for cultural change. Hopefully, more demonstrations of this type will continue in the region during Women's History Month.