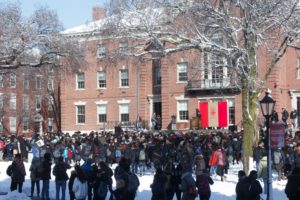 Brown University students, faculty, and staff gather on the Main Green as the walkout begins.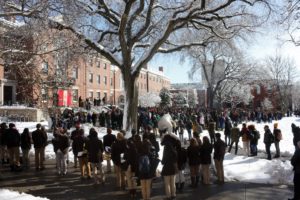 Participants in the walkout listen to speakers like student organizer Keiko Cooper-Hohn, President Christina Paxson, Senator Jack Reed's Community Affairs Coordinator Erin Arcand and others.
RISD student and Marjory Stoneman Douglas alum Nina Gregg addresses the crowd, discussing the pain the February shooting caused her, and the fight she has taken up since.
Individuals and activists from various advocacy groups gather on the Rhode Island State House steps, marching into the building.
Brown University student Wassa Bagayoko, a member of the Brown club Thoughts Prayers Action, holds up a sign at the rally.
One of the rally's goals was to take up space: to fill the state house, fill the press conference room, to make sure the state senators and representatives (and the media) saw the massive amount of support the cause has.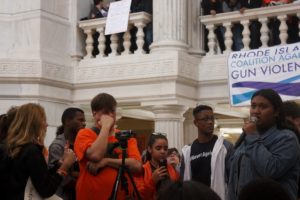 Storm, a senior from the Met School in Providence sings "Lean On Me" in the state house.
Gun control advocates gather in the state house for a press conference unveiling the Safe Schools Act, which "would provide that only peace officers and persons approved by the school authorities for the purposes of educational instruction may carry firearms or other weapons on school grounds."
Source: https://www.ricagv.org/safe-schools-act/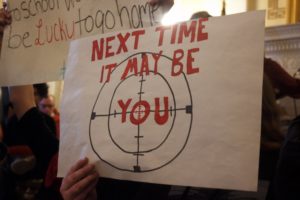 Classical High School student Taiwo Demola reads a poem about her sadness over Parkland and other mass shootings, and her hope that the #NeverAgain movement will inspire the change she wishes to see. She and students across the country have also managed to broaden the gun reform conversation, making sure the nation isn't just talking about safe schools, but also safe streets. In particular, they've been bringing to light the disproportionate effect gun violence has on urban areas and people of color.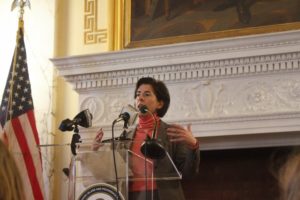 Rhode Island Governor Gina Raimondo praises the walkout and the rally and demands safer schools, an assault weapons ban, and red flag legislation.
Providence Mayor Jorge Elorza thanks young people for leading the #NeverAgain movement and expresses hope that it will be more successful than previous gun control movements after other mass shootings.
Photo Essay by Jenna Israel