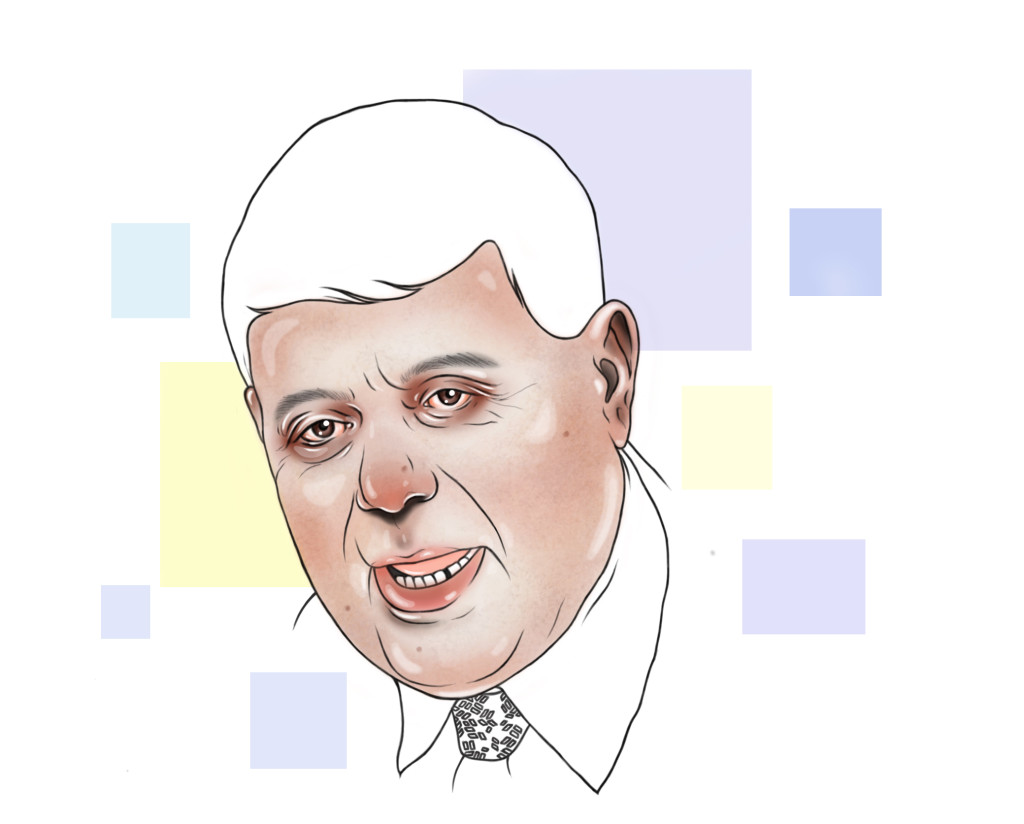 Buddy Cianci has dominated Providence politics ever since first being elected mayor in 1974. For the past 40 years, Cianci has influenced the city's politics from in and out of City Hall — even from federal prison. There are two sides to Buddy Cianci: The charismatic and personable mayor that attended parades and birthdays, and the manipulative and corrupt mayor that used building codes to get what he wanted. Today, Cianci, one of the state's most polarizing politicians, threw his hat back in the ring for the Providence mayoral election and was polling competitively up until election day. After a closely fought race, Cianci lost the election to his Democratic competitor Jorge Elorza. As the city considered the prospect of having Cianci return for a third time, it was natural to wonder whether his unique political career would have been possible had the advent of new media occurred 30 years earlier.
Cianci's tenure as mayor of Providence is generally divided into two periods: Buddy I (1974-1984) and Buddy II (1991-2002). During Buddy's first stint as mayor, he focused mostly on developing Providence's downtown area. He was considered a present mayor who was well-liked but did not accomplish much of note. This all came to an end in 1984 when Cianci assaulted a man he believed to have been having an affair with his estranged wife. The resulting conviction forced him to resign.
Seven years later, however, Providence voters decided to give Cianci a second chance, believing that his first felony had nothing to do with his ability to govern. During his second period of leadership, Providence underwent what Cianci has termed a "renaissance:" the riverside was redesigned and developed, WaterFire begun, the Providence Place Mall was built and the economy boomed. This transformation, highly celebrated by Providence residents, effectively served as Cianci's redemption. But this meteoric rise came to a screeching halt in 2002 when Cianci's administration was found guilty of corruption and racketeering. Cianci himself was accused of 30 counts of corruption but was only convicted of conspiracy — involvement in the planning of corrupt actions — or as Cianci refers to it being "captain of the ship." Being found guilty of only the conspiracy count has allowed Cianci to maintain his claims that he was only guilty of having been ignorant of the corruption occurring under his watch.
Cianci is still incredibly popular in Providence, even though stories of Cianci's manipulative behavior abound. One night, for example, the then-mayor was turned away from a restaurant because it was too full. Later that evening, the Providence Fire Department arrived to close the restaurant due to "overcrowding" and later revoked its entertainment license.
This is not the only example of such behavior and many more similar stories exist. However, these antics were all conducted in the pre-Internet era.  The transition from traditional print media to online media only happened in the past 15 years —the timeframe since Cianci left office. Newspapers like the Providence Journal were the predominant form of media news when Cianci was in office. For political and resource reasons, petty corruption instances that now gain attention online were typically omitted from print media. One story of a storeowner being manipulated by the mayor does not necessitate a front page spread nor would a "he said she said" be a politically wise article. Today, however, this has changed. In our current news cycle, that same story could be featured as a short article on the Journal's website or be told through platforms like Twitter, Tumblr and BuzzFeed. Online journalism includes not only professional journalists, but also citizen journalists who are able to use social media as a platform to report on their experiences.  Termed "new media," online journalism and social media both introduced a new set of challenges for Cianci in this election —  challenges that didn't exist during his heyday as mayor.
Although "new media" might have helped Cianci's public perception by increasing public relations opportunities, it might have also hurt his public perception by providing increased venues in which to expose his petty corruption. Cianci is a very charismatic politician. During his time as mayor, he frequented parades, weddings, birthdays and community celebrations. During his administrations he would frequently sit outside of Venda Ravioli and greet people walking in the Federal Hill District. His dedication to public appearances and interactions seems like it's made for Instagram and Tumblr. "Selfies with Buddy" seems like a natural link between the 73-year-old candidate and the idea of new media. A quick blurb on the Providence Journal's website about a joke Cianci made while at a parade or a blog post about a citizen meeting Cianci could do wonders to boost Cianci's reputation. Charismatic politicians go hand in hand with the new media because small acts are easily and quickly reported online. However, Cianci did not taken advantage of this easy publicity opportunity and the good will it could bring. He instead stuck to the traditional media of his time: print and television. He  released a television advertisement highlighting Providence before he became mayor and brought television crews to a public speech in a Providence park. While those two major public relations efforts might have worked in the mid-1990s, they likely didn't help move Buddy from his past administrations into the present.
By the same logic, a quick blurb on the Providence Journal's website about a suspect increase in building code violations or a blog post about a manipulative personal interaction could quickly destroy Cianci's still positive reputation in Providence. In the world of online media, social media and the sensationalist centered 24-hour news cycle, a political bully risks being quickly exposed. Take the case of Rod Blagojevich, a former Illinois governor convicted for 17 counts of corruption including attempting to sell Barack Obama's vacant Senate seat.  During the beginning of Blagojevich's administration, a video emerged depicting Blagojevich's unresponsiveness to a journalist's questions about a particular case of potential corruption. That video became an Internet sensation and The New Yorker speculated it may have been a factor in setting off an FBI investigation. After the FBI made its official arrest and court proceedings began, tapes of Blagojevich discussing potential instances of corruption became Internet fodder and sensationalist sound bites. The most inflammatory was a tape of Blagojevich discussing Obama's Senate seat as "a fucking valuable thing – you don't just give it away for nothing." Before Blagojevich was impeached, his approval rating dropped to 0 percent. It's a fair assumption that if online media existed to the same extent it does now 15 years ago, similar sound bites would have haunted Cianci and garnered similar Internet attention.
Is Buddy Cianci a viable politician in a world of "new media?" Would Buddy I and Buddy II have been possible in a world of "new media"? Of course, there can't be definitive answers to those questions but one thing is sure: Had "new media" existed in Buddy I and II, Cianci would have found the Internet to pose an obstacle. The Internet would have had a field day with Cianci's first conviction; BuzzFeed would have "10 Ways to Assault the Man You Think Your Wife is Having An Affair With" and Twitter would have a trending hashtag #freeBuddy. Cianci's petty corruption and incredible charisma would have been prime subjects for informal expression to massive audiences. The November election was therefore a subtle referendum on old school politicians in the "new media" world. Cianci's ability to adjust to "new media" is the ultimate test of political relevance — a test that he appears to have failed, at least for the moment.